Information on criminal justice and punishment

4 items

Governments publish the majority of information on crime and punishment. This means you need to access the relevant government website and learn how to navigate it.

Suggested Key Texts

4 items

Students will find the following two books useful for most topics.

Students need to read widely in this area. the prescribed reading provides students with core texts and articles; students should extend their reading beyond by consulting relevant journals in the University Library and by using the University catalogue to research alternative/additional materials. There are a number of journals that are particularly relevant:

British journal of criminology - Institute for the Study and Treatment of Delinquency (Great Britain), Oxford University Press (electronic resource)

Journal

For up to date facts about the penal system, students should consult the websites of The Home Office, The Ministry of Justice, The Scottish Executive and the Bureau of Justice Statistics (USA).

Lectures 1 and 2: Justifications of Punishment

14 items

Lecture 3: Sentencing and sentencing policy

3 items

Lecture 4: The Sociology of Punishment: Durkheim, Marx, Foucault

5 items

Students will find David Garland's, Punishment and Modern Society (1993) book useful for these two lectures and should read the relevant chapters.

Lecture 5: Risk assessment in CJ and the 'new' penology

5 items

Lecture 6: Prisons and Prison Policy

8 items

Lecture 7: Community Sanctions

10 items

Probation - Robert Canton 2017

Book Recommended

Lecture 8: Youth Justice

11 items

Youth & crime - Muncie, John c20091847874312,1847874320,9781847874320,9781847874313

Book See Chapter 9.

Lecture 9: The Death Penalty in England and Wales: Why it ended

8 items

Histories of crime: Britain 1600-2000 - Anne-Marie Kilday 2010

Book Recommended See content store link for Rowbotham, Judith. Chapter 9: Execution as punishment in England: 1750-2000, pp.180-202, 208.

Lecture 10: Dangerous offenders

21 items

Lecture 11: Sex offenders I

20 items

Lecture12: Sex offenders II

18 items

Lecture 13: Mentally disordered offenders

13 items

Lecture 14: Terrorism and PREVENT

9 items

Lecture 15: 'Victimless crimes': Sex Work

0 items

Lecture 16: Criminal records and the Rehabilitation of Offenders Act

15 items

Going beyond your reading list

1 item

You will find further information about the resources available in your subject area via the Criminology LibGuide (may open in a new window). General access to Skills support and Library services can also be found here (may open in a new window).

Creative Commons Attribution-NonCommercial-ShareAlike 3.0 Licence
Profile Required
Reading intentions and notes are stored against your user profile. Please create a profile to use this feature.
My notes
You must be logged in to add a note
What are item notes?
You can use item notes to make personal notes on any of your reading items. Notes are private to you and will not be shown to other users.
You can review your item notes from the list, the item page or from your profile page.
---
How do I create an item note?
To make notes, first you must be logged in. Once logged in, simply click Add note? next to the list item you wish to make notes on. You can also make notes at the bottom of every item's detail page.
Your note will be saved automatically as you type.
Have you read this?
You must be logged in to set a reading intention
What are reading intentions?
Setting up reading intentions help you organise your course reading. It makes it easy to scan through your lists and keep track of progress. Here's an example of what they look like: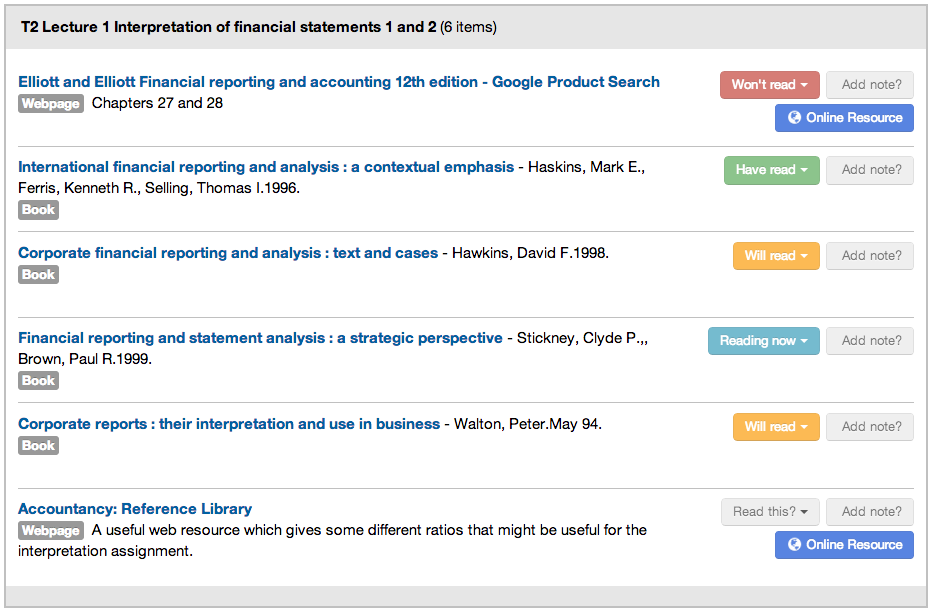 Your reading intentions are also stored in your profile for future reference.
---
How do I set a reading intention
To set a reading intention, first you must be logged in. Once logged in, click Read this? next to the list item you wish to set a reading intention for.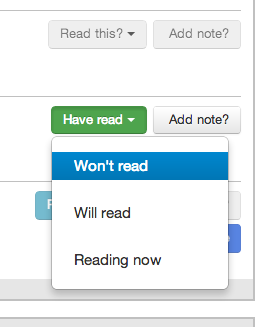 You can also set the reading intention from every item's detail page.