20120 - Ethnic Politics, War and Revolution: the Case of Yugoslavia
2017/18
Basic reading list for the Yugoslavia Special Subject.
This list shows general resources and seminar readings for the module. Please be aware that, in general, it does not contain the longer list of background readings for sub-topics which is contained in the module handbook, but these will also be useful if you are investigating particular documents or writing essays on a topic. A small number of 'background' books have however been listed in certain weeks as we are recommending them to the Library as new purchases and it will show them where they fit into the module.

General background readings

13 items

The Yugoslav Wars of the 1990s - Catherine Baker 20159781137398987

Book Essential This is not a textbook for the module in the sense that we will be working directly from it, but its structure is based on past Special Subject teaching so the themes and questions in the book are similar to the coverage in the module. Please remember that when marking assessed work I am not looking for how well an argument restates something another historian (including me) has written – the higher mark bands ask you to synthesise a range of sources, showing breadth and depth, to express and support an original argument of your own.

Yugoslavia: when ideals collide - Lane, Ann 20040333786629,0333786637,9780333786635,9780333786628

Book Recommended A brief introduction, but contains some inaccurate dates - be sure to cross-check dates with other works

The death of Yugoslavia - Silber, Laura, Little, Allan 19960140261680

Book Recommended Focuses on break-up of Yugoslavia

General readings on the historiography

9 items

Approaching Yugoslav history

2 items

Yugoslavia's predecessors

8 items

The Milošević trial: an autopsy - Timothy William Waters 2013 (electronic resource)

Book Essential For an overview of Yugoslav c20 history, by the end of this week please either have read a) ch 1 of Waters ('The context, contested') or b) one of the 'key survey works' from the list near the back of the module handbook.

South Slav unification and the First World War

6 items

A companion to World War I - Horne, John 2010 (electronic resource)

Book Essential Mark Cornwall chapter 'Austria-Hungary and "Yugoslavia"'

Imagining the Balkans

5 items

Orientalism - Said, Edward William 2003

Book Recommended Introduction digitised

Foreign lobbyists and humanitarians, 1912–19

6 items

The Kingdom of Yugoslavia

7 items

The Second World War in Yugoslavia: occupation, collaboration, resistance and revolution

10 items

The Bosnian Muslims in the Second World War: a history - Marko Attila Hoare 2013 (electronic resource)

Book Recommended Introduction for seminar. Despite the title, book has a wider scope (about Communist statebuilding 1943–45) and is putting the case that WW2 in Bosnia should also be thought of as the 'Bosnian Revolution'.

Yugoslavia in international history during and after WW2

8 items

The politics of Tito's Yugoslavia

5 items

Everyday life and 'socialist consumerism'

5 items

The independence of Slovenia and Croatia

8 items

The conflict in Bosnia-Herzegovina, 1992–96

14 items

Genocide on the Drina river - Edina Bećirević 2014

Book Recommended An important new book on the Bosnian Genocide. We may use it as an extra seminar reading if the Library purchases it.

The historiography of wartime sexual violence in Bosnia

4 items

Foreign scholarly controversies and the Yugoslav wars: 'universalists' versus 'relativists'

10 items

This list contains the main works being discussed in this seminar, but please refer to Canvas or the module handbook for the breakdown of tasks and works. The task list is divided into several cases, containing a piece of scholarly work and one or more responses to it.

Foreign peace plans, peacekeeping and media

11 items

Justice and reconciliation

8 items

Popular culture and memory

6 items

Bosnia - Sumantra Bose

Chapter

Going beyond your reading list

1 item

You will find further information about the resources available in your subject area via the History LibGuide. General access to Skills support and Library services can also be found here

Primary source collections

1 item

Most of the primary source collections that students can use for dissertation research are electronic databases or digital collections and are listed on Canvas. This list only contains primary source collections that the Library has as print copies.

Books we have suggested the Library should buy for 2017-18

12 items

Creative Commons Attribution-NonCommercial-ShareAlike 3.0 Licence
Profile Required
Reading intentions and notes are stored against your user profile. Please create a profile to use this feature.
My notes
You must be logged in to add a note
What are item notes?
You can use item notes to make personal notes on any of your reading items. Notes are private to you and will not be shown to other users.
You can review your item notes from the list, the item page or from your profile page.
---
How do I create an item note?
To make notes, first you must be logged in. Once logged in, simply click Add note? next to the list item you wish to make notes on. You can also make notes at the bottom of every item's detail page.
Your note will be saved automatically as you type.
Have you read this?
You must be logged in to set a reading intention
What are reading intentions?
Setting up reading intentions help you organise your course reading. It makes it easy to scan through your lists and keep track of progress. Here's an example of what they look like: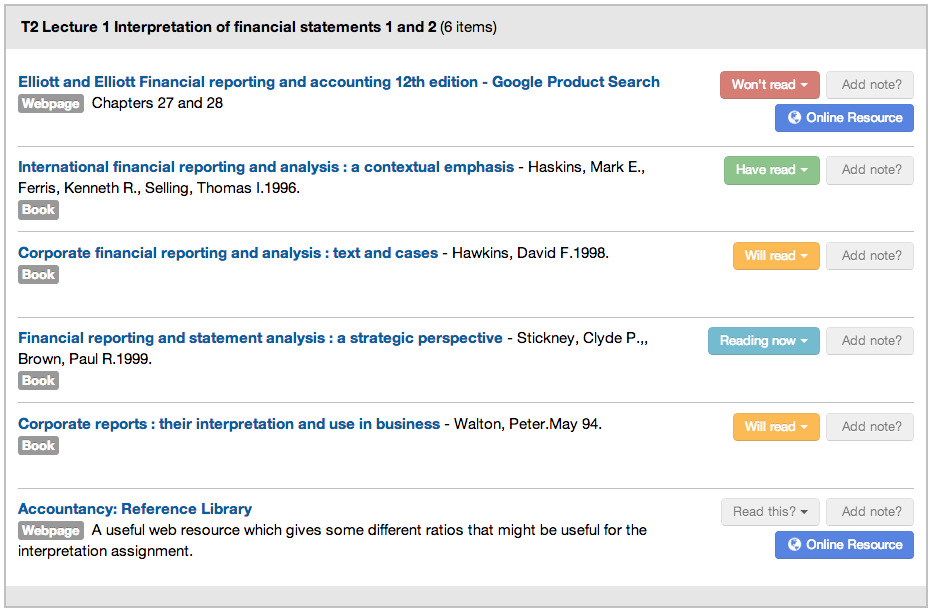 Your reading intentions are also stored in your profile for future reference.
---
How do I set a reading intention
To set a reading intention, first you must be logged in. Once logged in, click Read this? next to the list item you wish to set a reading intention for.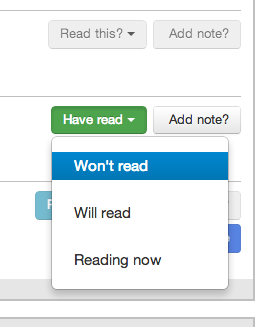 You can also set the reading intention from every item's detail page.