88054 - Specialist Translation Skills: Translation for Stage and Screen
2017/18
Archived
This list has been archived
Questions of cultural identity - Stuart Hall, Paul Du Gay 19960803978839,0803978820

Book Essential Read Bhabha, Homi K. (1996) 'Cultures In-Between,' pp. 53-60

The location of culture - Homi K. Bhabha 20040415336392

Book Essential Read 'How Newness Enters the World. Postmodern Space, Postcolonial Times and the Trials of Cultural Translation', pp. 212-35

Changing the terms 20000776605240

Book Essential Read pp. 9-29 Read Wolf, Michaela (2000) 'The Third Space in Postcolonial Representation', pp. 127-45

The translation studies reader - Lawrence Venuti 2000 (electronic resource)

Book Essential Read Spivak, Gayatri (1993/2000) 'The Politics of Translation,' pp. 397-416

Post-colonial translation: theory and practice - Susan Bassnett, Harish Trivedi 19990415147441,041514745X

Book Essential Read Vieira, Else Ribeiro Pires (1999) 'Liberating Calibans: Readings of Antropofagia and Haroldo de Campos' Poetics of Transcreation', pp. 95-113

Going beyond your reading list

1 item

You will find further information about the resources available in your subject area via the appropriate Subject LibGuide. General access to Skills support and Library services can also be found here.

Please note: this reading list represents a useful starting point and point of orientation for your private study research work. However, you are expected to go beyond your 'essential' reading to build an in-depth knowledge of the field. You are also expected to combine online research work with physical book and journal searches in the university library.

Creative Commons Attribution-NonCommercial-ShareAlike 3.0 Licence
Profile Required
Reading intentions and notes are stored against your user profile. Please create a profile to use this feature.
My notes
You must be logged in to add a note
What are item notes?
You can use item notes to make personal notes on any of your reading items. Notes are private to you and will not be shown to other users.
You can review your item notes from the list, the item page or from your profile page.
---
How do I create an item note?
To make notes, first you must be logged in. Once logged in, simply click Add note? next to the list item you wish to make notes on. You can also make notes at the bottom of every item's detail page.
Your note will be saved automatically as you type.
Have you read this?
You must be logged in to set a reading intention
What are reading intentions?
Setting up reading intentions help you organise your course reading. It makes it easy to scan through your lists and keep track of progress. Here's an example of what they look like: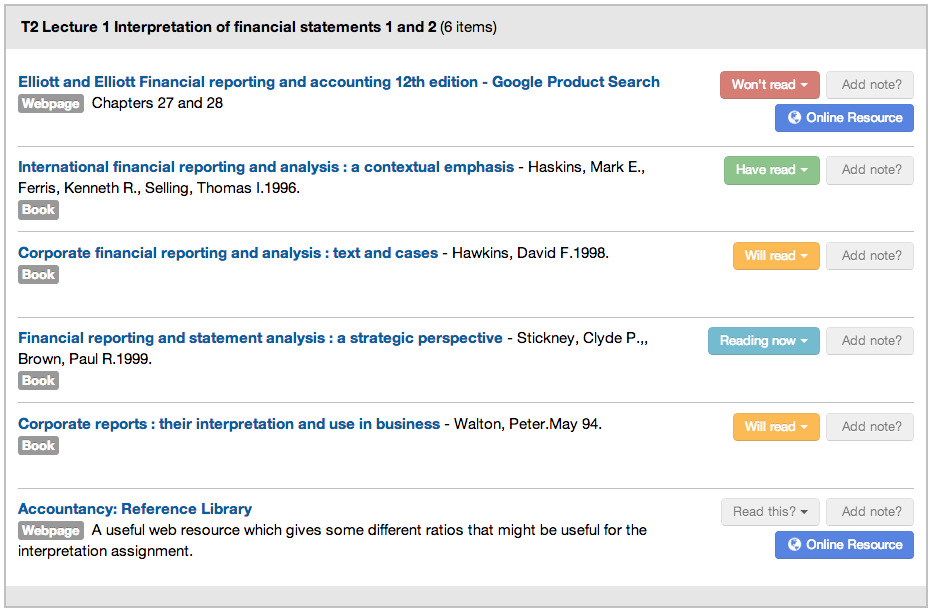 Your reading intentions are also stored in your profile for future reference.
---
How do I set a reading intention
To set a reading intention, first you must be logged in. Once logged in, click Read this? next to the list item you wish to set a reading intention for.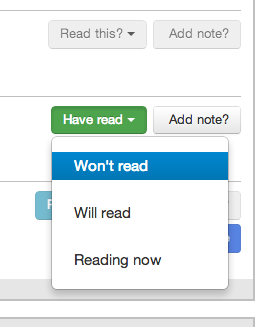 You can also set the reading intention from every item's detail page.