35152 - Doing Research in Criminology and Criminal Justice
2017/18
Introduction to the Course: Theory and Research

50 items

Delinquency and drift - Matza, David, University of California, Berkeley. Center of law and society 1964

Book Chapter 1

Images of deviance - Stanley Cohen 1982

Book Atkinson, J. M. (1971), 'Societal Reactions to Suicide: The Role of Coroners'

Crime Statistics and Survey Research

20 items

The Oxford handbook of criminology - Maguire, Mike, Morgan, Rodney, Reiner, Robert c20120199590273,9780199590278

Chapter Maguire, M. (2002), 'Crime Statistics: The "Data Explosion" and its Implications'

Victims of crime: a new deal? - Maguire, Mike, Pointing, John 19880335155677

Book Young, J. (1988), 'Risk of Crime and Fear of Crime: A Realist Critique of Survey-based Assumptions'

Finally look at one or more of the summary reports of the British Crime Surveys:

6 items

Interviews and life history research

32 items

Up close and personal: the teaching and learning of narrative research - Ruthellen Josselson, Amia Lieblich, Dan P. McAdams, American Psychological Association 2003

Book pp. 3-11; 29-48; 79-99; 113-133. Especially: Chase, Susan E. (2003) "Learning to Listen: Narrative Principles in a Qualitative Research Methods Course" pp. 79-99. McVicker Clinchy, Blythe (2003) "An Epistemological Approach to the Teaching of Narrative Research". pp. 29-48

Suggested further reading:

14 items

Ethnographic Research/Participant Observation

33 items

Researching social life - Gilbert, Nigel 20089781412946629,9781412946612

Book Fielding, N. Chapter 7, entitled "Ethnography"

Feminist Methods and Discourse Analysis

40 items

Indicative readings (choose AT LEAST TWO from the following list, AND AT LEAST ONE from the list of Suggested further reading etc):

3 items

Suggested further readings:

4 items

The Debate about Feminist Methodology

4 items

Feminist research and criminology

3 items

Some case studies

4 items

Indicative readings:

6 items

Suggested further reading:

15 items

Research Project Design and research ethics

17 items

Ethics in criminological research

1 item

Going beyond your reading list

1 item

You will find further information about the resources available in your subject area via the appropriate Subject LibGuide. General access to Skills support and Library services can also be found here.

Creative Commons Attribution-NonCommercial-ShareAlike 3.0 Licence
Profile Required
Reading intentions and notes are stored against your user profile. Please create a profile to use this feature.
My notes
You must be logged in to add a note
What are item notes?
You can use item notes to make personal notes on any of your reading items. Notes are private to you and will not be shown to other users.
You can review your item notes from the list, the item page or from your profile page.
---
How do I create an item note?
To make notes, first you must be logged in. Once logged in, simply click Add note? next to the list item you wish to make notes on. You can also make notes at the bottom of every item's detail page.
Your note will be saved automatically as you type.
Have you read this?
You must be logged in to set a reading intention
What are reading intentions?
Setting up reading intentions help you organise your course reading. It makes it easy to scan through your lists and keep track of progress. Here's an example of what they look like: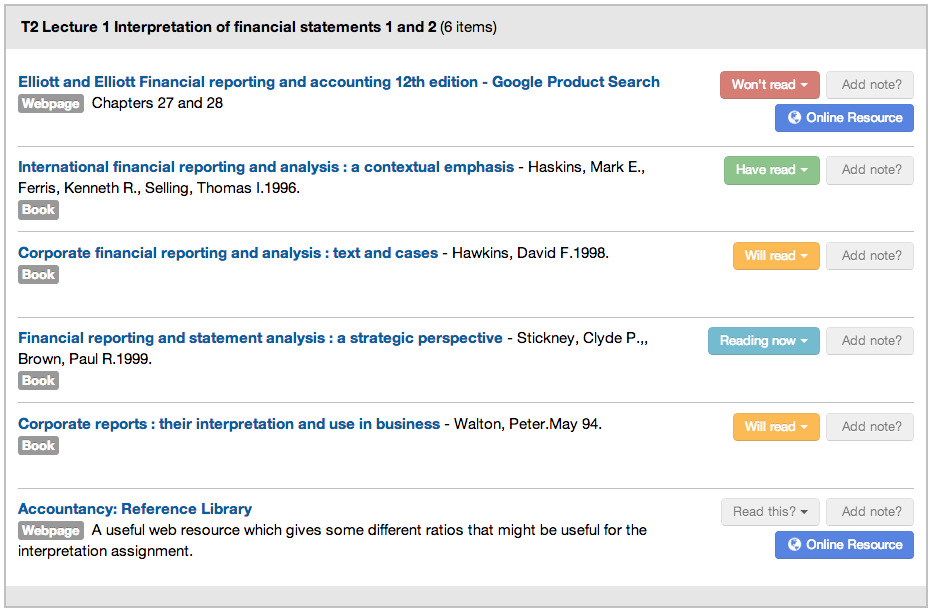 Your reading intentions are also stored in your profile for future reference.
---
How do I set a reading intention
To set a reading intention, first you must be logged in. Once logged in, click Read this? next to the list item you wish to set a reading intention for.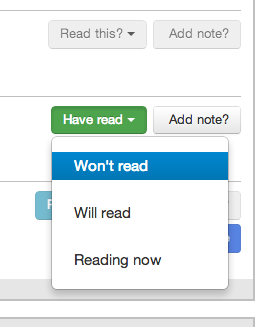 You can also set the reading intention from every item's detail page.