King John: new interpretations - S. D. Church 1999085115736X,9780851159478,9780851157368

Book Suggested for student purchase A necessary rejoinder to Warren's assessment of John by the best historians of their respective fields.

Stephen Church's King John : Key Chapters

4 items

King John - W. L. Warren, John 1978

Book Recommended A lively and scholarly account of John's reign, though it presents a much more positive view of John than is now fashionable.

John (1167 - 1216) - J. Gillingham 2004

Article Essential Online article overview of John's reign. Good to get you started, but beware: Gillingham is no fan of John, being the modern biographer of John's big brother Richard the Lionheart. Gillingham relies primarily on the testimony of monastic chroniclers (as opposed to records of the English administration), which can paint a rather dismal picture of John.

Other General Surveys and Studies of John's Reign, Life and Personality

11 items

King John: England's evil king? - Ralph V. Turner 20050752433857,9780752433851

Book Essential Less scholarly than Warren, but perhaps more approachable. A textbook rather than an academic biography. The newer edition has miniscule text, so I prefer to save my eyes by reading the 1994 edition.

Magna Carta - James Clarke Holt 19920521277787,0521259703

Book Essential Very dry, but unsurpassed analysis of John's government.

King John in his Context - R.V. Turner 19911852850310,1843831988,9781852850616,9780851153339,9780851159119,9780851159294,9781843830085,9781843830504,9781843831167

Article Recommended

General Works on Medieval Britain

10 items

The feudal kingdom of England, 1042-1216 - Frank Barlow 19990582381177,9780582381179

Book Background First published in 1955 (for an audience with a knowledge of Latin). It is traditional in its approach, but useful and very well written.

Ruling England, 1042-1217 - Richard Huscroft 2016

Book Background A very thorough up-to-date, clear and accurate overview of its period of English history.

The twelfth and thirteenth centuries, 1066-c.1280 - Barbara Fitzgerald Harvey 20010198731396,019873140X

Book Background A series of themed essays by several leading writers on British identities (Welsh, Scottish, English) with excellent material on government and kingship.

A companion to Britain in the later Middle Ages - S. H. Rigby, Historical Association (Great Britain) 20091405189738,9781405189736

Book Recommended A thematic jaunt through the late-medieval British Isles. Individual chapters are written by experts in their respective fields (e.g. English social history; Irish political history; Welsh cultural history), but tend to be fairly digestible. Its chronological scope is much longer than the module, but it may be helpful as background reading or to help with dissertation ideas. Pick and mix.

Medieval Britain, c. 1000-1500 - David Crouch 20179780521149679

Book Recommended An introduction to key concepts in medieval British history and society. A good starting point. Well written! I thinks so anyway.

England and the Continent

9 items

The Plantagenet empire: 1154-1224 - Martin Aurell 20079780582784390

Book Recommended Brings a much broader perspective, taking in all of the English king's dominions. It is very good on kingship and succession.

The Angevin empire - John Gillingham 20010340741155

Book Recommended Short and sweet political history of the Angevin Empire, 1154-1217. Good for placing English politics in European context, but only in conjunction with other works.

Britain and the continent, 1000-1300 - Donald Matthew 20050340740604,0340740612,9780340740613,9780340740606

Book Background A reminder that England - and indeed Britain - did not exist in isolation.

The central Middle Ages: Europe 950-1320 - Daniel Power 2006 (electronic resource)

Book Background A series of thematic overviews of Europe's core society, followed by a short overview of the peripheral societies.

The Plantagenet Family

9 items

Eleanor of Aquitaine: lord and lady - Bonnie Wheeler, John Carmi Parsons 20020312295820

Book Recommended The best academic study of the charismatic queen who was John's mother.

Henry II. - W. L. Warren 20009780300084740

Book Essential The still unsurpassed mammoth study of the mammoth reign of John's father, and all the problems that came home to John to deal with,

Henry the young king, 1155-1183 - Matthew Strickland 2016 (electronic resource)

Book Recommended A new and intriguing study of John's charismatic eldest brother, at whose court he was when a boy. Very strong on the military aspect of Plantagenet life.

Richard I. - John Gillingham 19990300079125

Book Recommended Written by a fanboy of the Lionheart and strangely uncritical of the problems Richard left his brother. Very good on Anglo-French relations and warfare.

Blanche of Castile : Queen of France - Lindy Grant 20169780300219265

Book Recommended Blanche was John's niece and a pawn in Anglo-French diplomacy in the first years of his reign, as well as being the excuse for Louis of France to claim the throne of England in 1216.

The Barons and Noble Culture

6 items

William Marshal - David Crouch 2016

Book Essential The standard (but not only) biography of the key baronial character of John's reign.

The Military System

6 items

Tournament - David Crouch 2005185285460X

Book Recommended A wide ranging study of military culture in the 12th and 13th century. Very detailed.

The Capetian Invasion, 1216-17

4 items

King John, the Church and Religion

7 items

King John and religion - Paul Webster 2015

Book Recommended The first in depth study of King John's piety and religious sincerity

Going beyond your reading list

1 item

You will find further information about the resources available in your subject area via the appropriate Subject LibGuide. General access to Skills support and Library services can also be found here.

Creative Commons Attribution-NonCommercial-ShareAlike 3.0 Licence
Profile Required
Reading intentions and notes are stored against your user profile. Please create a profile to use this feature.
My notes
You must be logged in to add a note
What are item notes?
You can use item notes to make personal notes on any of your reading items. Notes are private to you and will not be shown to other users.
You can review your item notes from the list, the item page or from your profile page.
---
How do I create an item note?
To make notes, first you must be logged in. Once logged in, simply click Add note? next to the list item you wish to make notes on. You can also make notes at the bottom of every item's detail page.
Your note will be saved automatically as you type.
Have you read this?
You must be logged in to set a reading intention
What are reading intentions?
Setting up reading intentions help you organise your course reading. It makes it easy to scan through your lists and keep track of progress. Here's an example of what they look like: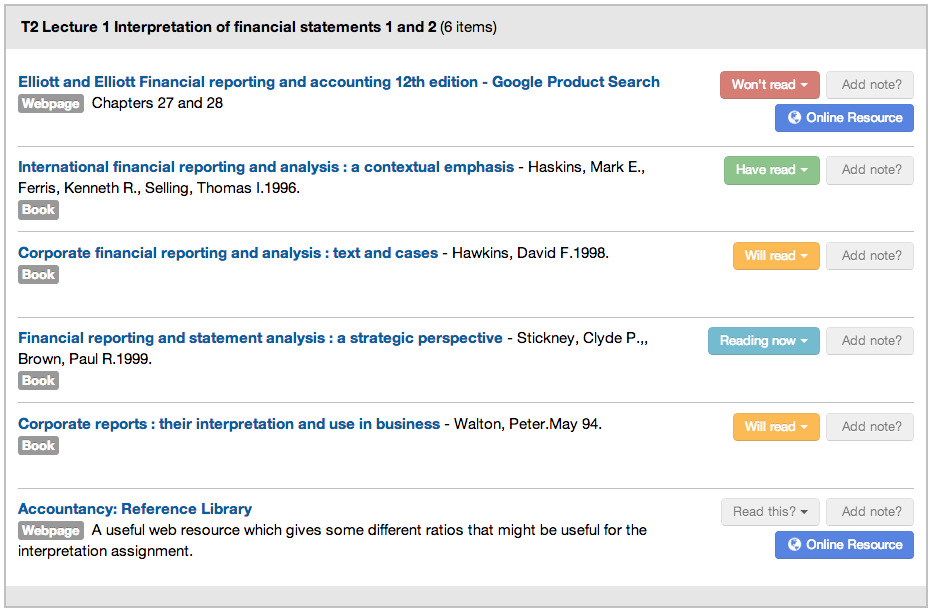 Your reading intentions are also stored in your profile for future reference.
---
How do I set a reading intention
To set a reading intention, first you must be logged in. Once logged in, click Read this? next to the list item you wish to set a reading intention for.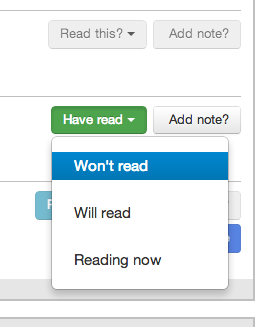 You can also set the reading intention from every item's detail page.