Crucial Core Texts

2 items

The following books are essential texts. They set out the two conceptions of Great Power status which are fundamental to the module.

Theory of International Politics - Kenneth N. Waltz 20101577666704,9781577666707

Book Essential This is the most important text for this module. Waltz's theoretical framework is cetral to almost all that we will discuss, so you need to be familiar with this book. This book was first published in 1979 and then reprinted in 2010. The two versions, including pagination, are identical, with the exception of a new foreword in the 2010 version.

The following books will be useful throughout the module and should be read in addition to the specific sources listed for each tutorial.

Organisational and explanatory meeting

1 item

There is no set reading for this tutorial. It will be used as a familiarisation session, but also to explain how the module will run. This is particularly important for this module since the tutorials, and more specifically the manner in which reading will be assigned for them, is likely to be unfamiliar to students.

For each tutorial only a small number of items are listed for reading. However, all students will be expected to read all the items listed (or at least 3 where more are listed). Tutorial discussions will centre on the listed texts. Whilst no supplementary reading is listed, the expectation is that students will, in addition, use their initiative and research skills to identify, locate and utilise additional materials themselves.

Almost all of the set texts are available electronically, either as journal articles or as digitised book chapters. Where this is not the case texts will be provided by the Module Coordinator.

1. What does the dominant discourse in IR theory tell us about the formal equality and material differences between states?

3 items

2. How does hierarchy manifest itself in international politics?

4 items

3. Is material capability the most important credential for a Great Power?

6 items

4. Can states really be counted as Great Powers if they lack broad social acceptance and peer group recognition?

5 items

5. Does Great Powers status bring with it special roles and/or responsibilities?

5 items

6. Does the great power of the Great Powers means that they will always be able to write the rules by which the membership of International Society has to abide?

4 items

7. Building post-war architectures

4 items

8. Reading and Writing about Great Powers

1 item

During the week beginning 20 November there will be no tutorial for this module. Instead students will attend individual meetings during which they will be required to provide an essay plan. The meetings will be used to discuss the essay plans and for the Module Coordinator to advise students on how best to proceed with their essays.

9. The Greatest Responsibility to Protect?

4 items

10. Cooperation, or a 'Return to Geopolitics'?

5 items

Going beyond your reading list

1 item

You will find further information about the resources available in your subject area via the appropriate Subject LibGuide. General access to Skills support and Library services can also be found here.

Creative Commons Attribution-NonCommercial-ShareAlike 3.0 Licence
Profile Required
Reading intentions and notes are stored against your user profile. Please create a profile to use this feature.
My notes
You must be logged in to add a note
What are item notes?
You can use item notes to make personal notes on any of your reading items. Notes are private to you and will not be shown to other users.
You can review your item notes from the list, the item page or from your profile page.
---
How do I create an item note?
To make notes, first you must be logged in. Once logged in, simply click Add note? next to the list item you wish to make notes on. You can also make notes at the bottom of every item's detail page.
Your note will be saved automatically as you type.
Have you read this?
You must be logged in to set a reading intention
What are reading intentions?
Setting up reading intentions help you organise your course reading. It makes it easy to scan through your lists and keep track of progress. Here's an example of what they look like: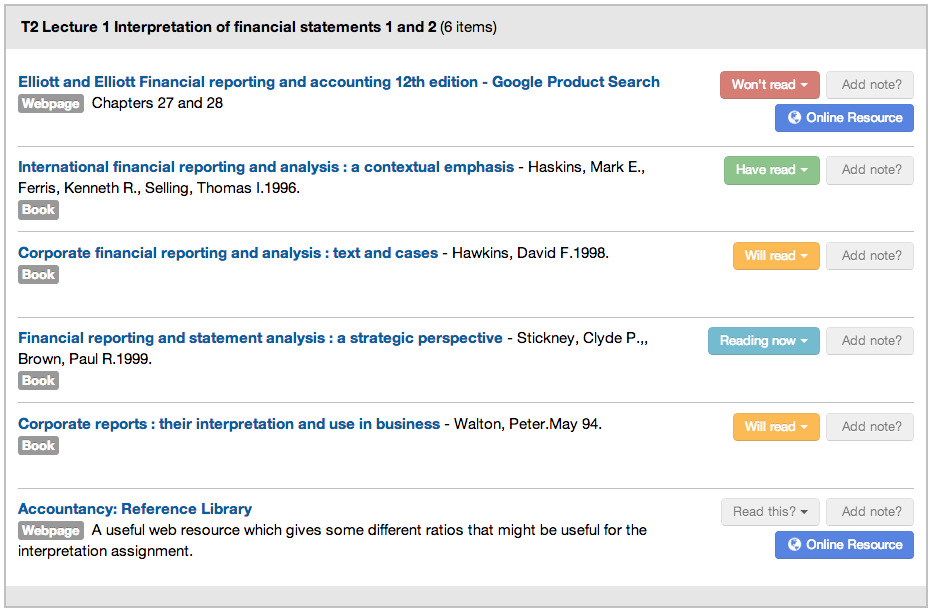 Your reading intentions are also stored in your profile for future reference.
---
How do I set a reading intention
To set a reading intention, first you must be logged in. Once logged in, click Read this? next to the list item you wish to set a reading intention for.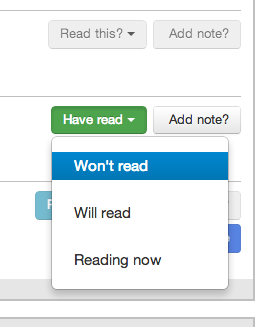 You can also set the reading intention from every item's detail page.