20474 - Into the Wild: the Environment and American Cultural History in the Nineteenth Century and Beyond
2017/18
New titles purchased by the library to support this module

4 items

Module textbooks

11 items

A number of books are a useful general investment for this course and are listed below. The module co-ordinator's recent book "Land & Spirit in Native America" is clearly useful, not least because of its bibliography, but while students are encouraged to consult it they need not buy it as multiple copies are available in the library. Some of the books below are extremely cheap on Amazon Used & New, some not so.

Please note: assigned seminar readings are all available on eBridge. This is a new course and some of the books listed in Further Reading are still in the process of being bought for the library. Students are encouraged to make good use of Amazon's Used and New facility and of what is available for free via the portals listed. On Amazon Used & New many of hte materials listed in Further Reading can be bought sometimes for pence.

Selected Journals

7 items

Inquiry (electronic resource)

Journal An academic philosophy journal founded in 1953 by deep ecology mainstay Arne Naess, and concerned particularly with promoting interdisciplinary understanding

The ecologist - Wadebridge Ecological Centre (electronic resource)

Journal Environmental magazine and journal

Online resources - British Academy

Webpage Aside from the usual journal portals on U.S. History available via the library, students are encouraged to visit the Portals, Libraries of Electronic Texts and Reference Works available via the British Academy portal.

Arcadia | Environment and Society Portal

Webpage Students will also find work of value in academic portals devoted to the environment. The ARCADIA Project: On-line Explorations in European Environmental History is continent specific.

Further Reading

131 items

Going beyond your reading list

1 item

You will find further information about the resources available in your subject area via the History LibGuide (may open in a new window). General access to Skills support and Library services can also be found here (may open in a new window).

Creative Commons Attribution-NonCommercial-ShareAlike 3.0 Licence
Profile Required
Reading intentions and notes are stored against your user profile. Please create a profile to use this feature.
My notes
You must be logged in to add a note
What are item notes?
You can use item notes to make personal notes on any of your reading items. Notes are private to you and will not be shown to other users.
You can review your item notes from the list, the item page or from your profile page.
---
How do I create an item note?
To make notes, first you must be logged in. Once logged in, simply click Add note? next to the list item you wish to make notes on. You can also make notes at the bottom of every item's detail page.
Your note will be saved automatically as you type.
Have you read this?
You must be logged in to set a reading intention
What are reading intentions?
Setting up reading intentions help you organise your course reading. It makes it easy to scan through your lists and keep track of progress. Here's an example of what they look like: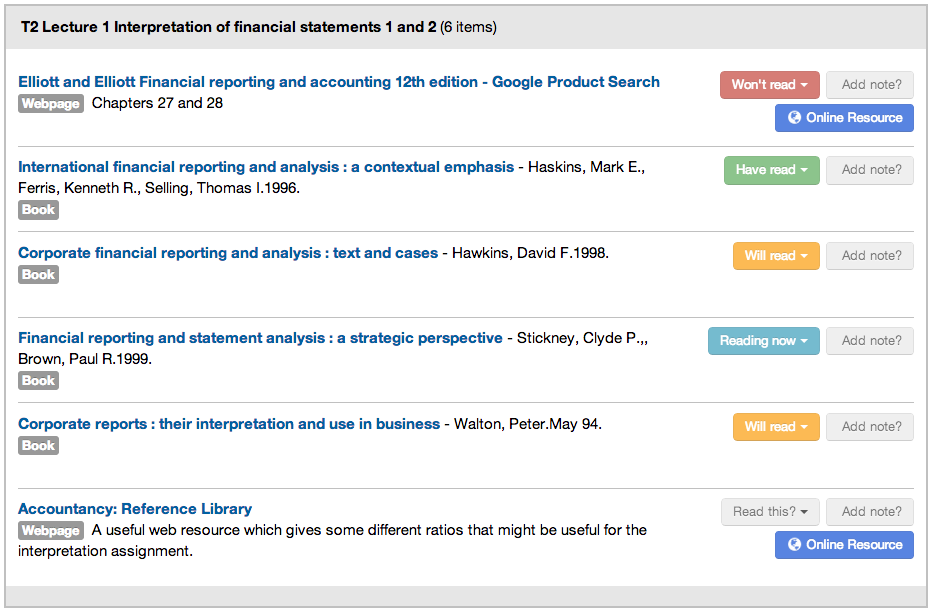 Your reading intentions are also stored in your profile for future reference.
---
How do I set a reading intention
To set a reading intention, first you must be logged in. Once logged in, click Read this? next to the list item you wish to set a reading intention for.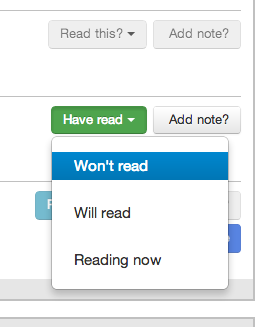 You can also set the reading intention from every item's detail page.