14213 - Love and Desire in Renaissance Literature, c. 1530 - 1633
2017/18
Recently added titles

7 items

Recommended background reading

5 items

One of the first things you will discover when you start reading English Renaissance literature is that the intellectual world is very different from our own. The following books offer a useful introduction to the period:

Historical and Intellectual Context

37 items

Books on specific authors and kinds

1. Poetry General

29 items

2. The Elizabethan Sonnet

11 items

Many of the studies listed above under the heading of Poetry- General also cover the sonnet tradition, so do not overlook them!

3. Elizabethan Erotic Poetry

11 items

1. Drama General

22 items

C. INDIVIDUAL WRITERS (IN ALPHABETICAL ORDER)

Paradoxes and problems - Donne, John, Peters, Helen 1980

Book These witty paradoxes are thought to be Donne's earliest prose works

3. Christopher Marlowe

32 items

4. William Shakespeare

43 items

5. Sir Philip Sidney

25 items

6. Edmund Spenser

27 items

Allegory - Tambling, Jeremy 20100415340055,0415340063,9780415340052,9780415340069

Book Includes a brief discussion of Spenser and 'The Bower of Bliss'

Going beyond your reading list

1 item

You will find further information about the resources available in your subject area via the English LibGuide .

Creative Commons Attribution-NonCommercial-ShareAlike 3.0 Licence
Profile Required
Reading intentions and notes are stored against your user profile. Please create a profile to use this feature.
My notes
You must be logged in to add a note
What are item notes?
You can use item notes to make personal notes on any of your reading items. Notes are private to you and will not be shown to other users.
You can review your item notes from the list, the item page or from your profile page.
---
How do I create an item note?
To make notes, first you must be logged in. Once logged in, simply click Add note? next to the list item you wish to make notes on. You can also make notes at the bottom of every item's detail page.
Your note will be saved automatically as you type.
Have you read this?
You must be logged in to set a reading intention
What are reading intentions?
Setting up reading intentions help you organise your course reading. It makes it easy to scan through your lists and keep track of progress. Here's an example of what they look like: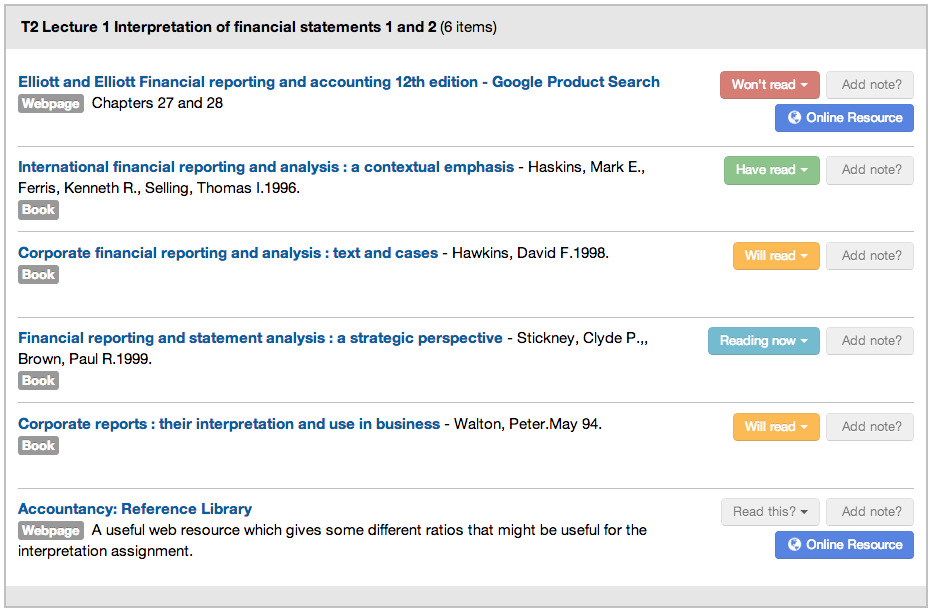 Your reading intentions are also stored in your profile for future reference.
---
How do I set a reading intention
To set a reading intention, first you must be logged in. Once logged in, click Read this? next to the list item you wish to set a reading intention for.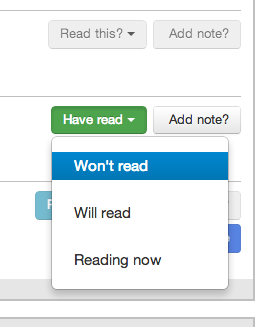 You can also set the reading intention from every item's detail page.