For each topic, references to the relevant chapters or pages in the first textbook will be provided. The other textbooks are of similar coverage and level, and you may find them useful as alternatives.

Review of basic microeconomics

2 items

Microeconomics - David Besanko, Ronald R. Braeutigam c20110470646063,9780470646069

Book Consumer surplus is explained on pages 173-174.Producer surplus is explained on pages 370-377. Cost curves are covered on pages 285-310 (but in more detail than we need).

Perfect competition and monopoly

2 items

Chapter 5: Monopoly and Regulation - Luís M. B. Cabral0262032864

Chapter We will not cover regulation of monopoly in any detail. You need only read section 5.1 (and can skip the subsection on dominant firms).

Price discrimination

2 items

Quantity Precommitment and Bertrand Competition Yield Cournot Outcomes - David M. Kreps and Jose A. Scheinkman 1983

Article Background This paper provides a link between quantity (Cournot) and price (Bertrand) competition. It shows that Cournot competition leads to the same outcomes as competition in a model where firms first commit to capacities/output and then choose prices.

Entry, Entry Deterrence, and Predation

3 items

Free Entry and Social Inefficiency - N. Gregory Mankiw and Michael D. Whinston 1986

Article Recommended Covers the excess entry result in homogeneous product markets. Do not worry about the mathematics, just try to understand the intuition behind the results.

Network Externalities

2 items

Intermediate microeconomics: a modern approach - Hal R. Varian 20109780393935332,9780393934243

Book Recommended Pages 679-682 covers the model of network externalities from lectures (but note that in this reading the values are uniformly distributed from 1 to 1000 instead of from 0 to 1, so that the expressions are slightly different).

Creative Commons Attribution-NonCommercial-ShareAlike 3.0 Licence
Profile Required
Reading intentions and notes are stored against your user profile. Please create a profile to use this feature.
My notes
You must be logged in to add a note
What are item notes?
You can use item notes to make personal notes on any of your reading items. Notes are private to you and will not be shown to other users.
You can review your item notes from the list, the item page or from your profile page.
---
How do I create an item note?
To make notes, first you must be logged in. Once logged in, simply click Add note? next to the list item you wish to make notes on. You can also make notes at the bottom of every item's detail page.
Your note will be saved automatically as you type.
Have you read this?
You must be logged in to set a reading intention
What are reading intentions?
Setting up reading intentions help you organise your course reading. It makes it easy to scan through your lists and keep track of progress. Here's an example of what they look like: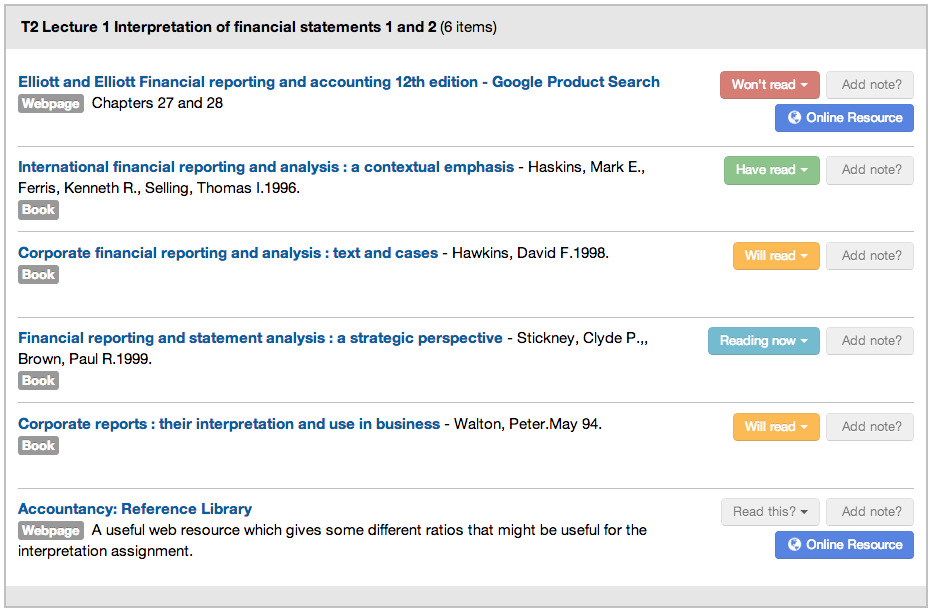 Your reading intentions are also stored in your profile for future reference.
---
How do I set a reading intention
To set a reading intention, first you must be logged in. Once logged in, click Read this? next to the list item you wish to set a reading intention for.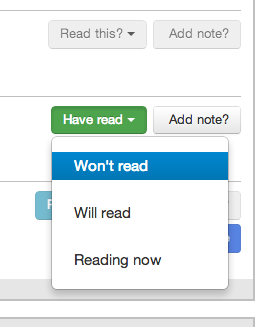 You can also set the reading intention from every item's detail page.